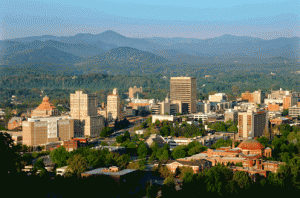 Part 1: Cities Hosting "Go Topless Day" Events
By Donna Miller
[Warning: Some content may be considered offensive.]
In August 2011, a friend from Asheville, North Carolina, called me about a female topless event that had been held in the heart of his city. Asheville is a western NC town nestled in the Great Smoky Mountains. The city revels in being called the "San Francisco of the East" so their official city logo "Any Way You Like It" should not come as a surprise.
The event that prompted the call was "Go Topless Day," an annual worldwide campaign. Events are held in numerous US cities as well as Canada and France. The movement is founded by cult leader Rael, who considers himself a spiritual leader of topless freedom. He also believes he learned the secrets of life from aliens.
Approximately 30 topless women converged on downtown Asheville in a family park-like area with fountains on Sunday, August 21. Hundreds of men leered and jeered for these women while they strutted around the fountain. This show of decadence persisted for hours.
The Asheville Police Department was present, and did nothing. They said as long as there was not a performance such as a striptease, they could not stop the event. Viewing the event online, however, many women appear to be putting on "performances." The Asheville police also ignored North Carolina's state law describing uncovered breasts in "Harmful to Minors" statutes. With this reasoning, Asheville and other host cities can allow women to go topless in public every day?
I am saddened for the parents of children who attempt to shield their children from pornography, lewd language, etc. – only to find all of these actions and images magnified on a Sunday afternoon outing to a public park.
Tourists visiting Asheville have to be appalled at exposing their families (and especially their children) to this pornographic atmosphere. Neither the opulent decorations of Asheville's castle (the Biltmore Estate), nor the beauty of the smoky Blue Ridge Mountains can replace innocence stripped from children by a city that gave preference to a cult over decency.
American cities participating in this travesty are liberal strongholds and listed alphabetically: Austin, TX; Asheville, NC; Chicago, IL; Honolulu, HI; Los Angeles (Venice Beach area); Manchester, NH; Miami Beach, FL; New York City, NY; Portland, OR; San Francisco, CA; and Washington, DC. Canadian cities are: Toronto and Vancouver. Paris, not known for conservatism, was scheduled for an event, but police arrested the women.
I attended a protest of the "Go Topless" event organized by past civic leaders Chad Nesbitt and Dr. Carl Mumpower. The protest was attended by ordinary citizens and ministers the week after the topless show. Dr. Mumpower, as a clinical psychologist, was required by law to report child abuse to the authorities. Nesbitt and Mumpower also filed complaints with the Department of Social Services and the NC Attorney General's office. At this writing, no one has acted from those agencies to protect children in the future.
The "Go Topless" movement sent a representative to our protest. Again, the police did not arrest the woman. They arrested an exhibitionist who came to make a statement and dropped her skirt as well as her top. I was horrified when I met a church group who came to stand for decency only to have their preteen son exposed to naked breasts and full nudity. Will he ever look at women the same again?
Porn in public seems to be embraced by many liberal cities. Some of the cities have hosted other events that where public nudity has become commonplace. Part 2 of this series of articles will detail public nudity at pride parades. Part 3 of the series will address the worldwide "Naked Bike Ride" event. All of these events show a trend toward a commitment by cities to indecency by allowing public nudity. They are also indicative of extreme indifference to public laws and traditional values.
Golden Goose of Tourism
Asheville is the county seat of Buncombe County, and $700 million was spent in 2010 by tourists in Buncombe County. Yet, city officials are willing to put at risk hundreds of millions of dollars to the community to protect a cult that received insights from aliens?
Most of the host cities to these events are top tourist destinations. States and cities are scrambling to attract tourist dollars. Since law enforcement apparently will not enforce public decency laws, consumers need to use their tourist dollar choices (along with activism) to send governments and businesses strong messages.
Would your like to make a difference? If you live near, or plan to visit one of the cities above, start a petition campaign to pressure action by elected public officials. Contact me at: wap_dm@hotmail.com, and I will provide you with a petition sample, and outline additional steps to take.
Together, we will make our world more decent – one city at a time.