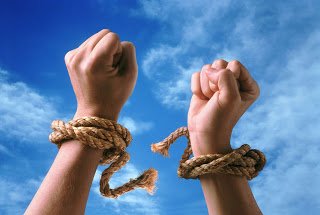 By Ted Baehr
Jesus Christ came to set the captives free. He is the chief cornerstone of our freedom.
Why?
Because each one of us has fallen short in many different ways that require judgment from God for the things we've done – lying, cheating, coveting, stealing, and so forth. And, as we know, deep in our hearts, the penalty is greater than we want to pay.

The good news is that Jesus himself paid the penalty that each and every one of us owes to God.
He is similar in one way to the "get out of jail free" card in Monopoly. If you have played Monopoly, you know you have to accept the card and use it to get out of jail free.
2 Kings 2 talks about Elisha seeking the spiritual anointing from Elijah with tenacity. True freedom requires the "Get Out of Jail Free card" and the power of the Holy Spirit's anointing to lead us into the Promise Land.
Every time Elijah, the elder prophet, told Elisha to stay put, Elisha said, "No, I'm coming with you." When Elijah rolled up his cloak to strike the water, God parted it, just as He had for Moses. Fifty prophets witnessed Elijah and Elisha crossing over.
In ancient times, the ability to travel between any armed communities was considered true freedom because every city-state restricted travel.
Elisha wanted a double portion of Elijah's Holy Spirit power.
This seems greedy until we realize that, in the Bible, inheritance laws provided that the first-born son inherited a double portion in order to save the property from division into such small parcels that they could not be farmed or grazed. If the eldest didn't want it, it went to the next son, and so forth.
Elijah tells Elisha he can't give him a double portion of the Holy Spirit. This is God at work. Only God can do this.
Elijah tells Elisha that God will do it "if you see me being taken up to heaven." Elisha sees Elijah being taken up and is deeply humbled. Thus, the message is that we must look to God.
Elisha took Elijah's cloak, rolled it up, and struck the water. God divided the waters as he did for Moses and Elijah, authenticating Elisha and empowering him.
Psalm 16 is the psalm Peter quoted in his great sermon on Pentecost where three thousand came to faith in Jesus Christ.
It is all about freedom, too. The first part is a calling to trust in God for freedom.
What kind of freedom? There are seven freedoms mentioned. The first six are:
God gives us every good thing, so it's freedom from envy.
God provides our inheritance, so it is freedom from insecurity.
God protects our bodies, so it is freedom from fear of disease.
God gives us eternal life with him, so it is freedom from fear of the future
God gives us safety, so it is freedom from worry.
God gives us pleasures evermore, so it is freedom from want.
Since He has blessed us, we are called to bless others.
Also, we must reject the false gods, who, like mirages in the desert, offer false promises that they cannot deliver.
On the other hand, God always delivers. This Psalm says our portion has been measured out for us. The Psalmist says God is giving us the cup of blessing, which is the cup of salvation, and the also communion cup. He wants to give us the Promised Land, and He will show us the way if we keep our eyes on him.
All we have to do is to be faithful like Elisha and persist.
The final, seventh freedom in this Psalm that Peter emphasized in his great sermon at Pentecost is the freedom over Death's power. The Psalmist says God is the hope for our body. Because Jesus was raised, we are not bound in our graves. He ends death's power.
Thus, all who are his heirs, everyone who calls on him, can pursue the path of life, experience the fullness of joy, and find pleasures evermore.
Galatians 5 makes the good news that Jesus Christ came to give us freedom very clear: "For freedom, Christ has set us free."
It is a Spirit filled life where we can live in liberty, not license. It is the freedom from physical denial that trapped the ancient Greek philosophers. It is the freedom from the law that kept the ancient Jews in bondage. It is freedom from sin that keeps most people in bondage.
It is the freedom to have a transformed life. With freedom in Jesus Christ, we are free to love others.
We know this is a great battle, but if we keep our eyes on the Holy Spirit – if we are like Elisha and persist – we will be victorious over jealousy, strife impurity, anger quarrels, and envy.
Only then will we get the fruit of the Spirit, which is the opposite of bondage:  Love, joy peace, patience, kindness, goodness, faithfulness, gentleness, and self-control. Against the fruit of the Holy Spirit, there is no law. So guided by the Holy Spirit, we are guided into a world of freedom.
Luke 9 explains the crowning glory of freedom.
Freedom is an adventure to a crown through the Cross. Jesus was determined to set us free, so He was determined to go to the Cross in Jerusalem.
The Samaritans rejected Jesus when He passed through their village, because they didn't accept the Temple sacrifices. Jesus' disciples threatened to call down lightning on the Samaritans, but Jesus stopped them. Jesus let His disciples know that He came to save lives, not destroy them. He came to set men free.
He calls us to follow him, but we must be intentional. Just like you can't drive down the freeway if you keep looking back, you have to keep looking ahead at the Holy Spirit to follow Him.
Call upon Jesus Christ and ask for a double portion. Call upon Jesus Christ and ask for the fruit and the gifts of the Holy Spirit.
Then, as you go forth in life, do so in thanksgiving.
The Greek word for thanksgiving is Eucharist.
Break the word down further and you get "charis," which means gift. So, accept His gift of Grace and be free indeed.
At the heart of "charis" is "char," which means joy. So, give thanks for His gift of true eternal freedom and experience the joy of the Lord.
In the name of Jesus Christ, Be Set Free, Indeed!