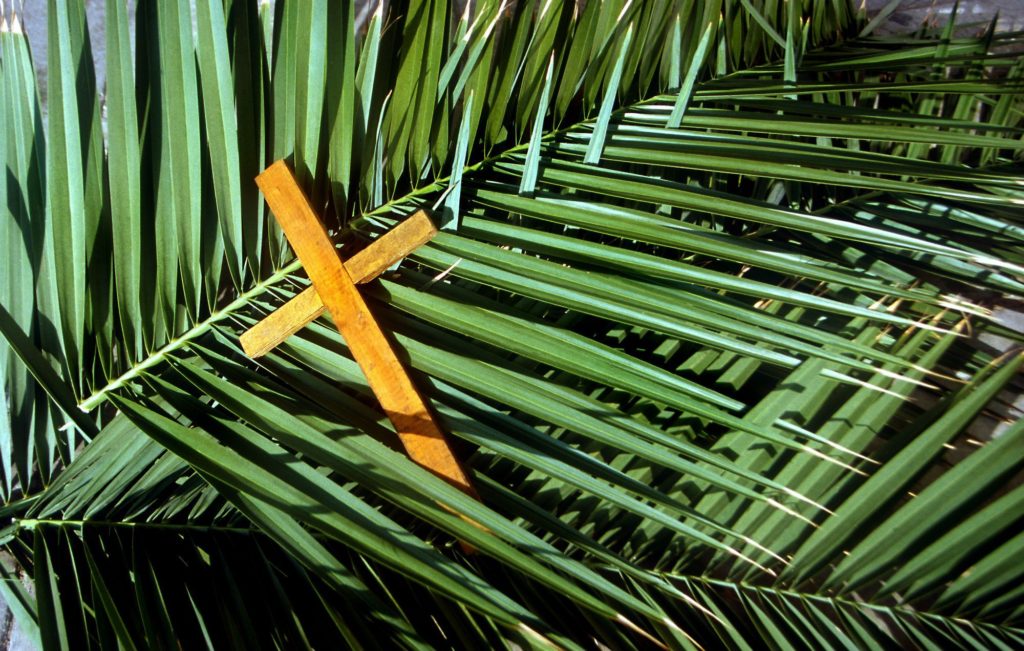 God's Tender Love for You and Me:
The Story of Love and Redemption
By Dr. Ted Baehr, Publisher
The Scripture for this Palm Sunday is about God's tender love. If anybody has experienced pain, suffering and need, we want God to love us and care for us in our need. This Passion week in the Scriptures is the greatest drama ever told and ever lived. It is the story of love and redemption. It's a drama where God who is the greatest author tells the audience exactly where the story is going a thousand years before it happened in Psalm 118 and Psalm 30, and in Isaiah 700 years before the passion of Jesus Christ.
I was watching recently the rough edit of an upcoming television documentary from the Billy Graham Evangelistic Association, that they want to broadcast when Billy Graham passes on to glory. It was absolutely great! I was watching his sermons, and in every sermon, he made it so clear that everybody was a sinner and everybody needs Jesus Christ to obtain eternal forgiveness. I understand that well since my life was so despicable before Jesus Christ rescued me.
The collect for today says that God, Jesus Christ, took upon himself human form. He became fully man and fully God, so that he could take upon him, your sins and mine. This is the same God, Jesus Christ, of whom John said in John 1: "In the beginning was the word, and the word was with God, and the word was God and through him all things created." This is the Creator of the universe who became fully man and fully God so that he could take upon him, our sins.
I don't know about the rest of you, I look at the rest of you as being this loving, kind, Christian group. I see you like little Charlie. Little two-year-old Charlie is gathering eggs today, and he's giving them to the other little girls that are out there in case they don't have enough eggs. So, I see you as already being perfected in Christ.
In contrast, I grew up with two parents who were actors, we went through a lot. Sometimes they were on Broadway, doing very well. They lived on an 120 acre estate, everybody thought that was marvelous. Yet, any actor will know that it's an up and down profession. Because it was up and down, they were not Christians. They would read Edgar Cayce, the theosophical society, and other occult literature. Because I was brought up in the Entertainment Industry, I was doing things that I can't talk about here. I was playing strip poker at the age of 9 backstage at the Broadhurst Theatre is a Broadway theatre on 44th Street.
I used to say that when my mother died when I was in puberty, that's when I went off the rails. In fact, I was off the rails from the beginning. As a result, I did a lot of drugs and a lot of nefarious activity. One friend, who was the son of the man who owned MGM, actually blew his brains out. People were hurt, deeply. If I hadn't been saved by Jesus Christ, I'd still be hurting myself and others, if I had survived.
I'm so grateful that Jesus saved me. I don't know whether the rest of you were sinners, that's my point, but I know that I was a sinner. I needed Jesus Christ, and that's what this whole Passion week reminds us.
This is the most beautiful week of the year. It starts off with the triumphant entry into Jerusalem; continues through the horror of the crucifixion, when Jesus took all my sins and yours on the cross; and, goes to the ultimate, which of course, is Jesus' Resurrection…the ultimate victory.
The passage in Matthew 21:1-11 is fulfilling prophesy:
"When Jesus and his disciples had come near Jerusalem and had reached Bethphage, at the Mount of Olives, Jesus sent two disciples, saying to them, "Go into the village ahead of you, and immediately you will find a donkey tied, and a colt with her; untie them and bring them to me. If anyone says anything to you, just say this, `The Lord needs them.' And he will send them immediately." This took place to fulfill what had been spoken through the prophet, saying,
"Tell the daughter of Zion,
Look, your king is coming to you,
humble, and mounted on a donkey,
and on a colt, the foal of a donkey."
The disciples went and did as Jesus had directed them; they brought the donkey and the colt, and put their cloaks on them, and he sat on them. A very large crowd spread their cloaks on the road, and others cut branches from the trees and spread them on the road. The crowds that went ahead of him and that followed were shouting,
"Hosanna to the Son of David!
Blessed is the one who comes in the name of the Lord!
Hosanna in the highest heaven!"
When he entered Jerusalem, the whole city was in turmoil, asking, "Who is this?" The crowds were saying, "This is the prophet Jesus from Nazareth in Galilee.""
Jesus is fulfilling Old Testament prophesy every step along the way. He sends two disciples off to get this colt that he's predicted to be riding. We just read it from Zachariah, on the colt, the foal of a donkey. Why is the foal with a donkey? Because the colt is so young that the colt is with it's mother, which is the donkey, it won't leave the donkey. This is the first time the colt has ever been ridden. So, he's going to send his disciples to go and get the colt and the donkey and bring it to him. If anybody says anything to them, they are supposed to just say, "The Lord needs it."
Now, right over here, next to our little cottage, we have a wonderful guy who's a sheriff. I would like his beautiful motorcycle there, so I can make a triumphant entry. Imagine yourself going over and getting his motorcycle and rolling it down the hill. Suddenly, the sheriff runs out with his shotgun and says, "Stop taking my motorcycle!" So, you say, "The Lord needs it!"
That's not going to work in 21st Century America, but he reason it worked at the time of Jesus Christ is because everybody knew that He was fulfilling prophesy. Every step along the way was predicted.
When they are spreading the branches as foretold in Psalm 118 before the King, Jesus didn't have to say "I'm the Messianic King," because the people were saying that he's the King. The whole of Jerusalem is saying it. Jerusalem was in such an uproar yelling that the Messiah has come that Matthew said it was like an earthquake.
Thus, the readings today start with an earthquake, since Matthew 21 is talking about this earthquake of people proclaiming the coming of the Messianic King Jesus, and then there's an earthquake at 3 o'clock in the afternoon.
People are yelling, "Hosanna." Hosanna is a very unique word. Who knows what hosanna means, and what language it is?
Actually, hosanna is a combination of a Hebrew word and an Aramaic word. Those words have been mashed together. One of them says, "Save us now" or, "Heal us now, Lord." It also has this Aramaic word, which says, "Blessed is he who comes in the name of the Lord." Imagine both of these words mashed together. The word is a seismic response, as Matthew says.
"Now, all of this has been predicted in Psalm 118:1-2, 19-29, which we read:
Give thanks to the Lord, for he is good; his mercy endures for ever.
Let Israel now proclaim, "His mercy endures for ever."
Open for me the gates of righteousness; I will enter them;
I will offer thanks to the Lord.
"This is the gate of the Lord; he who is righteous may enter."
I will give thanks to you, for you answered me and have become my salvation.
The same stone which the builders rejected has become the chief cornerstone.
This is the Lord's doing, and it is marvelous in our eyes.
On this day the Lord has acted; we will rejoice and be glad in it.
Hosannah, Lord, hosannah! Lord, send us now success.
Blessed is he who comes in the name of the Lord; we bless you from the house of the Lord.
God is the Lord; he has shined upon us; form a procession with branches up to the horns of the altar.
You are my God, and I will thank you; you are my God, and I will exalt you.
Give thanks to the Lord, for he is good; his mercy endures forever."
Psalm 118 predicts the triumphal entry of the King. He commands a gate that is always closed in Jerusalem, and can only be entered by the high priest or the King, or the Messiah. The Messiah is going up, through this gate, up, up to the altar.
If you have been to Jerusalem, you're going up into the Temple, and when you get into the Temple you went up to the horns of the altar. Only one high priest was allowed to go to the horns of the altar. This is very special. Only two other people who weren't the high priest get it. One was King David in Psalm 118, and the other was Jesus. So, He's going up at this time, and the people are proclaiming, "Save us now." They're also saying to Him other things, like, "Prosper us now!" "Feed us now!" "Care for us now!" "Take care of us now!" Because they know where He's going, and they want Him to get before the Lord, before God himself, the Father, whom no man has seen. No, not one. Colossians 1:15 says, "The only visible imagine of the invisible God is Jesus Christ." They wanted to say to God, "Feed us now, take care of us now, we're under oppression now. The Romans are gathered around, we're in severe circumstances."
So, He is rejected. He is the cornerstone rejected. Now, King David was rejected but he was never resurrected. Jesus was resurrected.
Isaiah 50:4-9 was written 700 years before Jesus Christ:
"The Lord God has given me
the tongue of a teacher,
that I may know how to sustain
the weary with a word.
Morning by morning he wakens,
wakens my ear,
to listen as those who are taught.
The Lord God has opened my ear,
and I was not rebellious,
I did not turn backward.
I gave my back to those who struck me,
and my cheeks to those who pulled out the beard;
I did not hide my face
from insult and spitting.
The Lord God helps me;
therefore, I have not been disgraced;
therefore, I have set my face like flint,
and, I know that I shall not be put to shame;
he who vindicates me is near.
Who will contend with me?
Let us stand up together.
Who are my adversaries?
Let them confront me.
It is the Lord God who helps me;
who will declare me guilty?"
Isaiah 50 is the third of four suffering servant songs. It affirms His faith in God. He carries out God's mission in the face of ridicule and opposition. He's confident that God will sustain him.
Now, what is he doing that causes so much trouble?
God wakes Him up early in the morning that day to help the weary, to heal the blind, to heal the lame, to comfort the prisoner, and to feed the hungry. Every morning, God is giving Him new inspiration to be able to do these things which are treating humanity with great respect whether they're Israelis or a Samaritan woman or a gentile.
So, here He is healing them, and what does He get for it? He gets to be beaten, like a criminal. He gets His beard pulled out with contempt. He gets spit on with hatred.
Psalm 31:9-16 was written 1,000 years before Jesus' Passion Week:
"Have mercy on me, O Lord, for I am in trouble;
my eye is consumed with sorrow,
and also my throat and my belly.
For my life is wasted with grief,
and my years with sighing;
my strength fails me because of affliction,
and my bones are consumed.
I have become a reproach to all my enemies and even to my neighbors,
a dismay to those of my acquaintance;
when they see me in the street they avoid me.
I am forgotten like a dead man, out of mind;
I am as useless as a broken pot.
For I have heard the whispering of the crowd;
fear is all around;
they put their heads together against me;
they plot to take my life.
But, as for me, I have trusted in you, O Lord.
I have said, "You are my God.
My times are in your hand;
rescue me from the hand of my enemies,
and from those who persecute me.
Make your face to shine upon your servant,
and in your loving-kindness save me."
Psalm 31 says the suffering servant, Jesus Christ, was consumed by sorrow because He'd been abandoned. He was abandoned even by His friends. John, the beloved disciple, abandoned Him. Peter abandoned Him. James abandoned Him. So, He's praying that God will sustain him.
Philippians 2:5-11 reads:
"Let the same mind be in you that was in Christ Jesus,
who, though he was in the form of God,
did not regard equality with God
as something to be exploited,
but emptied himself,
taking the form of a slave,
being born in human likeness.
And being found in human form,
he humbled himself
and became obedient to the point of death–
even death on a cross.
Therefore, God also highly exalted him
and gave him the name
that is above every name,
so that at the name of Jesus
every knee should bend,
in heaven and on earth and under the earth,
and every tongue should confess
that Jesus Christ is Lord,
to the glory of God the Father."
Philippians 2:5-11 is from Jesus Christ's perspective. That little hymn of Philippians 2 teaches Jesus' pre-existence, His incarnation, His humiliation, His crucifixion, His ascension, and His exaltation. All of that is packed into Philippians 2.
As John 1:1 says about Jesus, "In the beginning was the Word, and the Word was with God, and the Word was God." Jesus was God, is God, and will always be God. Jesus, as it says in Philippians 2, humbled Himself and took on manhood. That doesn't mean He was partially man and fully God, as the Gnostics said, or He was fully man and not only partially God, like the Arians proclaimed. He was and is fully man and fully God. Because He is fully man and fully God means that He was sinless, and He could take your sins. He was the sinless sacrifice.
Jesus cared so much for me, even though I was really rotten. He gave up his privileges of heaven, limited himself to a human body and experienced all the pain and suffering predicted in Psalm 118.
Matthew 27:11-54 is incredible to read:
"Jesus stood before the governor; and the governor asked him, "Are you the King of the Jews?" Jesus said, "You say so." But, when he was accused by the chief priests and elders, he did not answer. Then, Pilate said to him, "Do you not hear how many accusations they make against you?" But, he gave him no answer, not even to a single charge, so that the governor was greatly amazed.
Now, at the festival the governor was accustomed to release a prisoner for the crowd, anyone whom they wanted. At that time, they had a notorious prisoner, called Jesus Barabbas. So, after they had gathered, Pilate said to them, "Whom do you want me to release for you, Jesus Barabbas or Jesus who is called the Messiah?" For he realized that it was out of jealousy that they had handed him over. While he was sitting on the judgment seat, his wife sent word to him, "Have nothing to do with that innocent man, for today I have suffered a great deal because of a dream about him." Now, the chief priests and the elders persuaded the crowds to ask for Barabbas and to have Jesus killed. The governor again said to them, "Which of the two do you want me to release for you?" And, they said, "Barabbas." Pilate said to them, "Then what should I do with Jesus who is called the Messiah?" All of them said, "Let him be crucified!" Then he asked, "Why, what evil has he done?" But they shouted all the more, "Let him be crucified!"
So, when Pilate saw that he could do nothing, but rather that a riot was beginning, he took some water and washed his hands before the crowd, saying, "I am innocent of this man's blood; see to it yourselves." Then, the people as a whole answered, "His blood be on us and on our children!" So, he released Barabbas for them; and, after flogging Jesus, he handed him over to be crucified.
Then, the soldiers of the governor took Jesus into the governor's headquarters, and they gathered the whole cohort around him. They stripped him and put a scarlet robe on him, and after twisting some thorns into a crown, they put it on his head. They put a reed in his right hand and knelt before him and mocked him, saying, "Hail, King of the Jews!" They spat on him, and took the reed and struck him on the head. After mocking him, they stripped him of the robe and put his own clothes on him. Then, they led him away to crucify him.
As they went out, they came upon a man from Cyrene named Simon; they compelled this man to carry his cross. And, when they came to a place called Golgotha (which means Place of a Skull), they offered him wine to drink, mixed with gall; but when he tasted it, he would not drink it. And, when they had crucified him, they divided his clothes among themselves by casting lots; then, they sat down there and kept watch over him. Over his head, they put the charge against him, which read, "This is Jesus, the King of the Jews."
Then, two bandits were crucified with him, one on his right and one on his left. Those who passed by derided him, shaking their heads and saying, "You who would destroy the temple and build it in three days, save yourself! If you are the Son of God, come down from the cross." In the same way, the chief priests also, along with the scribes and elders, were mocking him, saying, "He saved others; he cannot save himself. He is the King of Israel; let him come down from the cross now, and we will believe in him. He trusts in God; let God deliver him now, if he wants to; for he said, 'I am God's Son.'" The bandits who were crucified with him also taunted him in the same way.
From noon on, darkness came over the whole land until three in the afternoon. And, about three o'clock Jesus cried with a loud voice, "Eli, Eli, lema sabachthani?" that is, "My God, my God, why have you forsaken me?" When some of the bystanders heard it, they said, "This man is calling for Elijah." At once, one of them ran and got a sponge, filled it with sour wine, put it on a stick, and gave it to him to drink. But, the others said, "Wait, let us see whether Elijah will come to save him." Then, Jesus cried again with a loud voice and breathed his last. At that moment, the curtain of the temple was torn in two, from top to bottom. The earth shook, and the rocks were split. The tombs also were opened, and many bodies of the saints who had fallen asleep were raised. After his resurrection, they came out of the tombs and entered the holy city and appeared to many. Now, when the centurion and those with him, who were keeping watch over Jesus, saw the earthquake and what took place, they were terrified and said, "Truly this man was God's Son!"
The charge said that Jesus was a king. Pilate asked Jesus, "Are you a king?" He replies, "My kingdom is not of this world." Pilate understands that Jesus is not a threat to Caesar, so he offers the people a choice.
Have you thought about the choice that he offers them? Have you thought about this choice? Who is he offering?
Pilate is offering a murderer, a liar, a thief, a rebel, who's named Jesus Barabbas. What does Jesus Barabbas mean? Jesus Bar Rabbi the son of a teacher. He's supposed to know the law. He can't live according to the law. Even though he's supposed to be the son of a person who teaches the law, he can't live according to the law. Pilate gives them the choice, "You can choose Jesus Barabbas, the son of the teacher of the law, or Jesus the Son of God, who wakes up early in the morning to help the weak, the needy, the humble, the broken, and the blind. Of course, they choose Barabbas, which is incredibly horrendous.
Then, Pilate's wife Claudia comes to Pilate and says, "I had a dream that Jesus was innocent. The dream was so powerful that it just bothered me."
I dreamt about Lili a year before I met her. The story of the girl of my dreams has been in several books.
God gives dreams to pagans. He knew that I wouldn't have come to Jesus Christ, unless I had met Lili.
Pilate declares Jesus innocent. So, what do the rabbis, the Pharisees and the Sadducees do? They say, "Let his blood be on us." His blood in many ways was on them at the destruction of Jerusalem. Has anybody studied the destruction of Jerusalem? It was so gruesome that people were eating their own relatives. His blood was on them.
It was a cruel and horrible situation. The Romans made it more cruel and horrible. The Romans, of course, were mocking Jesus.
Then, the Romans choose Simon, Simon became a disciple, and his sons became leaders of the one of the early churches.
Jesus was never comforted, so that we might be comforted. He was cursed, so that we might be blessed.
He goes up to be crucified on the place of the skull, which is Golgotha in Hebrew and Calvary in Latin.
The women are offering Him a narcotic drink that they offer to all the people being crucified, so that they'd feel less pain, because crucifixion was the most painful form of dying. The wine and the gall was to help Jesus not to know what was happening. He refuses it because He wants to take each and every one of our sins. We've all fallen short of the glory of God.
When I think of my sins, I think how much He must have suffered. He embraced death for you and me.
They put a sign above his cross: King of the Jews. They all mocked him.
There's been more than 150 movies about Jesus since 1897. If you've seen the movies, you see three crosses, only one has a sign on it. But, most of the crosses had signs on them. Why did the crosses have signs? To warn the passersby not to commit the crime written on the sign.
There were people crucified all the way from Jerusalem to Caesarea on the Mediterranean coast. Many miles of crucifixions. The only movie that shows that in a powerful way is THE YOUNG MESSIAHY. There were so many crucifixions that you'd walk three feet, and there's another crucifixion. Most had a sign because the Romans wanted everybody who saw them to know why these people are crucified so you know don't do this.
Except when it came to Jesus, the sign read, "The King of the Jews."
They mocked Him until the darkness fell over the land. Of course, that darkness was scary, because they thought God brings judgment in the darkness.
Just before He dies, He says something that He's never said before. He always calls God "Father." "Our father who art in heaven, hallowed be thy name." At this point, on the cross, He says, "My God, my God." Now, why does he say, "My God, my God?" Because he's quoting Psalm 22. It's just like, when children are little, you teach them, "row, row, row your boat." All you have to do is start saying "row, row, row your boat," and they'll give you the rest of the song. As soon as you start saying, "My God, my God," the people at the foot of the cross, understand this refers to Psalm 22, which tells the whole story of the crucifixion. At the end of Psalm 22, what happens? It's a victory. He's saying, you're scared, you're crying for me right now but don't worry. Remember Psalm 22. There's a victory at the end of all this.
Of course, He dies at 3 o'clock in the afternoon, the time of the evening sacrifice. That is the sin offering. Where were those lambs born? In Bethlehem. A few miles from Jerusalem. The purest lamb was taken and sacrificed and died on that very time at 3 o'clock. But this time, something spectacular happens. The sinless lamb is Jesus Christ. The one sacrifice once given.
Then the curtain of the Temple is torn from top to bottom. Does anybody know how big this curtain was? It was as thick as the palm of your hand right. It was 30 feet high and 60 feet long. It took 300 people to put it up on the hooks because it was so heavy.
Now, I grew up on Broadway. My father was a star on Broadway. When that curtain pulls across that gigantic stage, if it's stuck, imagine lifting up a curtain that is that heavy and that thick. It's almost impossible.
And, it tore at that moment, so the Jews are shaken. The high priest and all the rest of them. Why? Because suddenly, you have access to God. That barrier to entry has been removed. When you say, "Hosanna, save me Lord," God hears you because we can go up to the horns of the alter at that point.
Then, the tombs open. The saints come out. Most people don't pay any attention to this.
There are a lot of resurrections in the Bible, including Lazarus, all these saints that are coming out of their tombs, and the people who died whom Jesus brought back to life.
All these resurrections are just telling you, "This is going to happen." This is for real. Jesus' resurrection is not just about Jesus: it's about you. It's about each of us who will be resurrected.
All the soldiers at the foot of the cross, said, "This must be the son of the one true God."
In the early church, up until Constantine, all of the paintings were of the resurrected Jesus. If you go to Ravina today, you see the resurrected Jesus. If you go up to Galilee, you see the resurrected Jesus.
The crucified Jesus was only after Constantine saw the cross in the air and God told him to paint the cross on his standards and that became the focal point. But, that's not the end of the story. We're not left hanging on the cross.
The story didn't end with Jesus dying on the cross. The story ends with Jesus's resurrection.
We know that he wasn't in the tomb because they said a whole cohort was ordered to watch the tomb. A cohort was usually 16. Most movies it's two people and one of them is drunk. The way they set that guard at Jesus' tomb is that four of them would watch for four hours, and then sleep. The rest of them would sleep in a semi-circle pointing their hands toward to tomb. If any thief wanted to get that body, they'd have to walk over the bodies of these soldiers.
Once they got there, what did they find in front of the tomb? A two ton stone that took 20 men to move. How many thieves could walk over all of these centurions, who knew that they were going to die if they let this tomb be robbed, and then remove a two ton stone? It's a physical impossibility.
The stone was rolled away, and Jesus appeared to his disciples. Of course, Thomas doubted. I doubted for years. I thought Christianity was ridiculous. I didn't believe it. Then, Thomas put his finger in His hands, and his finger in Jesus' side. Five hundred people saw the resurrected Jesus. They not only saw him; but also, they ate with him and drank with him. He was with them, physically telling them, "You are going to be resurrected."
So, what is the moral of everything this week is all about? The moral is that this is great news. This is the most spectacular example of God's tender love. That God love's us so much that He gave His only begotten son, Jesus Christ, to save you and me.
The point of all this is that it ends up with a great thanksgiving. The thanksgiving word, as I tell you every week that we're together, is "eucharist," and the heart of the word "eucharist" is "charis" which means a gift. When you give thanks, you get a gift. The heart of the word "charis" is "char," which means joy. When you give thanks, you get joy.
What God is calling you today is to believe. He called you not only to believe, but wants you to receive the healing, to receive the forgiveness, to receive the new life. That belief is a gift from God. It's all a gift from God. Then, to become an adopted child of God through Jesus Christ.
So, this is the chance to give thanks to God that He gave His only son Jesus Christ to deliver me from my heinous sins, and deliver each one of you, whom I know are much better than I ever was.
So, believe, receive and become an adopted child of God and Heir of His eternal Glory.