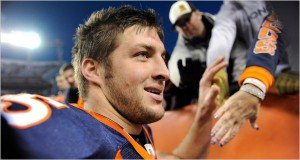 By David Outten
Noel Biderman, founder of a website created to match up couples seeking to commit adultery, has offered a $1 million prize to any woman who can prove she's had sex with Tim Tebow in the next year.
Biderman says, "I guarantee that no man of Tebow's stature could survive a season in New York without succumbing to the temptations of the city." He also said, "We are beyond the days where pre-marital sex has a social stigma, and it is my hope that soon we will also feel the same about infidelity."
While Biderman is receiving tremendous publicity because he's challenged Tim Tebow, Tim can use the challenge to promote the very virtues Biderman hates.
Biderman has already claimed a major victory. He considers the stigma related to sex before marriage dead. Tim does not. Should some woman win the $1 million, Tim and millions of his fans would be profoundly disappointed.
The remarkable thing about Tim Tebow is that he takes his opportunity to be a role model more seriously than his opportunity to be a professional football player (and he takes that VERY seriously). News stories about Tim's virginity have helped raise public awareness that there are still many young people intent on saving sex for marriage. It displeases Biderman and other licentious loons that so many Americans admire someone with high moral values.
Sadly, Biderman isn't entirely wrong. The traditional term for premarital sex is fornication. It's seldom used. The term adultery is still used, but Biderman hopes to replace it with "extramarital sex" or something with even less stigma.
The term "stigma" itself is out of fashion, but the amoral Christophobes like Biderman who hate words like "sodomy," "fornication," and "adultery" are doing their best to create a new stigma called "homophobe."
Stigmas can be healthy. Peer pressure can promote good or bad behavior. No one wants to be disrespected. If fornication, adultery, and promiscuity result in a loss of dignity, teenagers are less likely to risk of "shameful" behavior. If there is no shame, Katie bar the door! If virginity causes shame, you're in the wrong peer group.
The government itself has worked to reduce the stigma of fornication. It now keeps statistics on "unwed births." Fifty years ago the government kept statistics on "illegitimate births." When government statistics were first kept for this occurrence, the measure was for "bastardy." It may sound cruel to place a stigma on innocent children for the sins of their parents, but it's more cruel to encourage fornication and either kill unwanted unborn babies or put them at higher risk of becoming drug addicts, prison inmates, and AIDS casualties. As the stigma related to fornication has diminished, the rate of abortion, unwed births, welfare, violent crime, and imprisonment have soared.
Presidential candidate Rick Santorum received a lot of criticism from lamebrain leftists for his stand against the moral degradation of American society, including statements he made against pornography, but Rick was totally right in expressing these grave concerns.
The benefits of chastity are not reserved just for well-behaved teenagers, however. Society as a whole benefits from young people who save sex for marriage, provide for their children, and pay taxes to support those who don't. Let the number of parents seeking government assistance outnumber those who pay taxes, and Americans will wish a stigma still existed in the peer groups where it doesn't now.
Saving sex for marriage is a virtue. Let's hope a lot more athletes and celebrities than just Tim Tebow take a stand for virtue.
America needs to return to God and His moral standards, which stem from His character and are recorded clearly in the Holy Scriptures, the Bible.