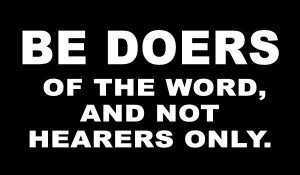 By Dr. Ted Baehr, Publisher
But be doers of the word and not hearers only, deceiving yourselves. Because if anyone is a hearer of the word and not a doer, he is like a man looking at his own face in a mirror. For he looks at himself, goes away, and immediately forgets what kind of man he was. But, the one who looks intently into the perfect law of freedom and perseveres in it, and is not a forgetful hearer but one who does good works – this person will be blessed in what he does.
James 1:22-25 (Holman Christian Standard Bible)
Many Christian leaders are trying to address the nature of the cultural collapse, which is bringing bondage to our future generations. We have forgotten history and common sense has been jettisoned. As we know, he who forgets history is doomed to repeat it.
Ruthless dictatorships are emerging, not just in the Middle East, but also in South America, Africa, and elsewhere. People are treating government as if it is God and forgetting the real God, who is the only King willing to die to save us from our sins and pay the penalty for our acts of commission and omission.

In this regard, there are a lot of good plans and proposals, but James 1:22-25 gives the key to redeeming the culture. James calls us to be doers of the Word – to hear the Word, to believe the Word, and to act on the Word. Just as Jesus called Peter to step out of the boat and walk on water, God calls us to step out of our comfort zone and onto center stage to be His herald and usher in His kingdom, which is a kingdom of freedom and peace.
We need to have a passion for souls and help them understand true freedom in Christ, where God clothes us with the robe of righteousness and a diadem of glory – His glory and His righteousness. In this regard, we need to recognize the brokenness and sinfulness of the human condition. Our worst expectations will always be exceeded by the reality of the darkness of the human heart.
However, we need not be afraid. The human heart was created in the image of God and through the grace of His Holy Spirit, it responds to the good news. For too long, the good news has been presented in the context of Christendom or Western civilization. Those assumptions and presumptions are no longer part of our culture. The youth and the immigrants have forgotten the presuppositions, which created a civilized society where people manifested the fruit of the Spirit:  love, joy, peace, patience, kindness, goodness, faithfulness, gentleness, and self-control.
So we have to start where Jesus started. . . by telling stories that open up peoples' hearts and help them understand the truth that will set them free. Therefore, if we want to usher in the new kingdom – His kingdom of peace and grace and the joy of salvation – we need to understand the human condition, step out of our comfort zone, and proclaim the good news in the midst of this fallen world with stories that will transform the lives of all who hear them. The good news is that when we do so, we will be blessed in what we do.
Editor's Note:  For more information on how to tell stories in the mass media of entertainment that capture and transform audiences, please read HOW TO SUCCEED IN HOLLYWOOD (WITHOUT LOSING YOUR SOUL) and contact Dr. Ted Baehr about the HOW TO SUCCEED IN HOLLYWOOD (WITHOUT LOSING YOUR SOUL) filmmaking classes.