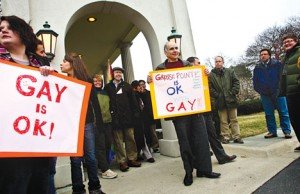 By Linda Harvey
Details are sketchy in the recent rash of homosexual-related teen suicides throughout the nation, but already the "gay" lobby is ready to exploit our children one more time.
In Minnesota, seven students committed suicide in recent months, three said to be involved in homosexuality. A college student at Rutgers jumped off the George Washington Bridge after his homosexual rendezvous was secretly filmed by his roommate and then broadcast over the Internet. The roommate and another student face criminal charges.
A 13-year-old in California and another in Texas killed themselves following student taunts about homosexuality. A 15-year-old in Indiana hanged himself over homosexual-related harassment.
And now we hear that another young man, 19-year-old Rhode Island college student Raymond Chase, hanged himself. He, too, believed he was "gay."