In November, some liberal pastors in America placed Korans, the religious text for Muslims, beside Bibles to reconcile Christianity with Islam. They called their efforts "Chrislam."
This vile heresy is part of a movement that started in Lagos, Nigeria, where half the population is Christian and the other half is Muslim.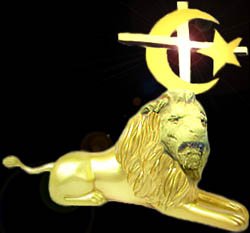 Among the American heretics preaching this nonsense are social gospel heretic Tony Campolo, who says he admires "the Muslim sense of commitment to the poor" (http://www.billmuehlenberg.com/2009/09/16/sorry-but-i-am-not-buying-into-chrislam/), and "emerging church" heretic Brian McLaren, who thinks Christians should celebrate the Muslim fast and festival of Ramadan.
Instead of appeasing Muslims and Muslim terrorists, Christians should be evangelizing them with the Gospel of Jesus Christ, the only begotten Son of God who died for our sins and delivers us from evil.
"Everyone who goes on ahead and does not abide in the teaching of Christ, does not have God" – 2 John 9.
– MOVIEGUIDE®, 12/08/10.